E – GOVERNANCE POLICY
E-Governance is the process by which traditional governance is modernized to facilitate staff, students, administration and all other stakeholders with improved services and to ensure smooth governance using Information and Communication Technologies' (ICT) applications. E-Governance involves new ways of governance, single window operations, services, paperless operations, transparency and much more. ARKA JAIN University E-Governance policy has been designed to facilitate the students, employees and all other stakeholders
Advantages of E-Governance
The advantages of e-governance in an educational sector are improved efficiency, increase in transparency and accountability of educational administrative activities. It is convenient and enables faster access to service, and lowers costs for administrative services. The multi-faceted benefits of E- governance can be described as follow:
Increases the efficiency of various departments and reduces duplication.
Preparation of reports becomes easier and quicker.
Students' related facilities are well defined
Easy and immediate online information and submission of forms and payment
The management, faculty members, students and administrative staff get connected to the each other more easily leading to enhanced efficiency in delivering service by faster dissemination of information ton a reduced cost.
Equity and access to information is provided regardless of one's physical location and physical challenges thus removing distance barriers.
Leads to significant reduction of transaction costs, time, space, and manpower.The E-Governance system is designed to transform work processes, implement and deliver certain information to decision-makers, adding an improvement in transparency and accountability levels. In the process, the possibilities of errors are reduced as well as the University's budgeting and quality of services are improved. The need for E-Governance in areas such as Planning and Development, Administration, Finance and Accounting is significant and obligatory.
VISION
To enhance the accuracy, efficiency & transparency of University governance to all its stakeholders.
MISSION
To develop the E-infrastructure, with the latest technology to facilitate and promote E – Governance system in most of the University operations
STAKEHOLDERS
1. The following constitute the stakeholders of the University:
2. Students
3. Faculties and Staffs.
4. Parents.
5. Industry Partners
6. Society
ARKA JAIN University E-Governance model has the primary task of delivery of services and information to its stakeholders through powerful electronic means. University believes that the use of Information Technology (IT) facilitates efficient, speedy, transparent and proactive processes for disseminating information.
It assists to strengthen the activities of Internal Quality Assurance Cell (IQAC) and creates a centralized data management system to support accreditation and rankings similar to NIRF, NBA, NAAC, QS and other world rankings and so on.
The objectives of constituting E-Governance policy are:
1. To implement smooth functioning of the University activities
2. To promote transparency and accountability.
3. Facilitate online, internal and external communication between all the stakeholders of the University.
4. Provision easy access to information.
5. Make the University globally visible.
6. Develop necessary IT infrastructure.
7. Introduce online services for students, parents, faculty/staff and other stakeholders.
It is observed that introduction of e-governance in education will empower good education by providing new ways of communication between faculty members and students, faculty members and colleagues and between students. This system will enhance and promote new methods of delivering the desired knowledge to the students and offers new insights to organize and deliver requisite services.
University E-Governance system is a powerful medium to deliver services and perform day to day administrative activities in its areas of operation: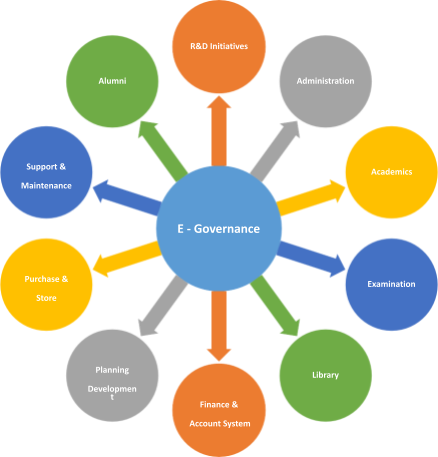 I. Academics:
Implementation of E-Governance in educational system will enable effective enhancement of academic standards.
1.  Robust and Transparent internal evaluation process.
2. Faculty / Staff Training.
3. Faculty Appraisal by the students.
4. Establishing an Industry ready learning centre.
5. Self-Evaluation of Faculty.
6. Semester End Academic Feedback
7. Enhanced Teaching Tools – online assignments, feedback, quizzes, mentoring, QA's. and many more
8. Online semester registration.
II. Library:
Online catalogues, automated record keeping, computer-based decision making and so on. A digital library could provide access to an unlimited number of copies with the "touch of a button". A text or monograph, which is available in an electronic format can be obtained easily. The main benefit of digitization service is it cuts down the requirement of papers, saves office space and cuts down the time needed to process the information. With this service, physical data can be converted to paper form, theses, research papers, magazines, books, records and others into digital format which is readable by all computers and is easily processed.
III. Examination:
The policy defines major points to be considered while developing the e-governance system in the examination system in the following contexts:
Filling of regular/re-appear examination forms, revaluation forms.
Receiving/submission of examination papers, uploading of marks, and the like
Maintaining of Secrecy and confidentiality.
Issuing of online admit cards to students.
Continuous Internal Evaluation under the guidance and supervision of Office of Controller of Examination of the University.
Creation of multiple test categories for various subjects or courses.
Transparent & unbiased Evaluation / Digitized Evaluation.
Students shall be able to benefit from maximum services in online mode like Mark sheet, Transcript and many more
Iv. Finance & Accounts System:
The policy defines major points to be considered while developing the finance and accounts system as specified below:
Appropriate security measures should be taken for maintaining of confidentiality w.r.t payment, monetary transactions, billing process and the like.
Training to the existing staff and updating of the existing software must be done on timely basis.
Fee payments and receipts generation system regarding Academic, Examination, Transport, Hostel, and Dues etc. must be developed.
v. Administration:
The use of information technology-based system in education will lead to increased participation of the students and increase the development and effectiveness of the learning methods. Administration may provide better service in terms of time thereby making the governance more efficient and more effective by use of Information technology. In addition, the transaction costs can be lowered and the services become more accessible. Implementing e-governance in educational system will enable effective monitoring of academic standards.
To improve the delivery of services to students by providing interactive services like requests for documents and certificates, issuing ID cards and many more
Visitors record management.
Admission process.
Activities, notifications, alerts, circulars, announcements, advisories for students and faculty/staff.
Online attendance and leave management system for students and employees.
Human Resource Management System.
E-communication mechanism like E-mail or app-based service for internal communication
Setting up information channels for parents and other stakeholders
Students will be able to obtain maximum services in online mode in the areas of:
Admissions and registrations.
Gate pass.
Transfer certificates.
Bona fide certificates.
Transcripts.
Hostel and Logistics Management System.
The categories generated for Information Administration System of the ARKA JAIN University can be listed as under:
Student Administration
Usage of electronic media by students to apply for admissions.
Student registration/ enrolment.
Availability of timetable / class schedule.
Attendance records.
Communication of academic details of students to their parents.
Notifications
Staff Administration
Recruitment and work allotment
Automation of attendance and leave management of staff. /Faculty members.
Performance Based appraisal System
Communication with staff through e-media.
E-circulars/Office Orders/Notices.
General Administration
Scheduling / allocation of seats for examinations.
Dissemination of information within the institution through e-kiosks.
Processing and display of examination results.
Facility for students to make fee payments in online mode
VI. Purchase & Store:
Central store of University shall adapt new solution to maintain inventory, stock and transaction electronically. Processes like indentation, purchase orders, bill entries, issue & returns shall be done through e-services. Regular updates shall also be provisioned.
VII. Support and Maintenance Services:
Support and maintenance services shall have paperless system in place to receive support request with an automatic response mechanism in place. The automated system shall keep track of all requests and responses registered by end users; Information to users and concerned support department can be managed through message/e-mail, reminders, job open/ close status, remarks, reports and many more via central accessible web portal or Mobile Application
VIII. Alumni:
In order to strengthen alumni interaction, a separate alumni portal must be started providing facilities like registration, information of Department/School activities, prominent alumni, milestones achieved by alumni, feedback and many other aspects. For this purpose, a dedicated cell shall be established and a separate alumni coordinator at the Department/School level shall be appointed to take care of the entire activities.
Annual Report of E-Governance System of University will be presented to the Governing Body of the University, on regular basis. Policy is amendable based on Administrative decisions and technology changes as and when applicable.