DR. T.V.RAO CENTER FOR HUMAN POSSIBILITY VOLUNTEERS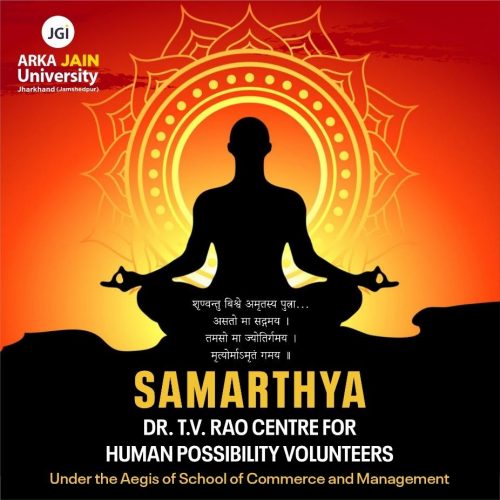 Established in 2017, ARKA JAIN University, Jharkhand (AJU) as a part of nationally reputed JGI Group is the first private university of Jamshedpur – the Steel City of India . The University currently offers PhD. , 2-year full time P.G. Programs like M.B.A., M.C.A. and Full-Time Under-graduate Courses like: B.B.A., B.Com., B.C.A., B.Sc. (IT), B.A. (Economics), B.A. (English), B.A. (Fashion Designing), B. Pharma , B.B.A. (LLB), B.Tech. and Polytechnic Courses, etc. In a very short period AJU became one of the leading academic institutions in the eastern part of India, apart from being proud of consisting of AICTE approved first and only private university B-School in the state of Jharkhand. AJU broke new ground in the field of academic innovation, in discharging organizational social responsibility and upholding human values, SAMARTHYA DR. T.V.RAO CENTER FOR HUMAN POSSIBILITY VOLUNTEERS is an effort in this direction.
INTRODUCTION
The concept of Human Possibility Volunteers comes out of Dr. T.V. Rao and Dr. Udai Pareek's commitment to the philosophy and values of HRD which they promoted in India since mid-seventies. It combines the concept of Independent Volunteers (IVs) which late Ravi J Matthai used along with Dr. Rao and Dr. Pareek's in the educational innovations in Rajasthan (came to be known as Jawaja project subsequently) in-mid seventies. Sadhguru Jaggi Vasudev of Isha Foundation is instrumental in drawing our attention to Human being as beyond "Resource" and as "Possibilities" and thus adding more dignity to "Humans" as possibilities. Given proper conditions and nurtured with skills and coaching, people can accomplish many things. The concept of Human Possibility Volunteer assumes a selfless devotion to the cause of promoting human dignity by treating them as possibilities and enabling them to contribute to the world of work, self-discovery and application for the welfare of fellow humans in the society.
Widely acclaimed as the co-founder of the first human resource development department in the Indian subcontinent (along with Dr Udai Pareek) and the initiator of the HRD movement in the country, Dr TV Rao was a professor at IIM Ahmedabad (IIMA) from 1973 till 1994 and associated with IIMA subsequently in different capacities as visiting or Adjunct Professor or Society and Board member until 2018. He is Founder President of the National HRD Network and Co-Founder Honorary Director of the Academy of HRD. Dr Rao has also worked as L&T Professor of HRD at XLRI, Jamshedpur, during 1983-1985. Dr Rao has over 60 books to his credit in the areas of HRD, education, organizational behaviour, entrepreneurship, health and population, and management training. He has wide and varied consulting experience in areas such as organizational structure, HRD, appraisals, OD, team building, survey feedback, entrepreneurship, institution building, HRD audit, structuring HRD, and institutional evaluation. He was a consultant to various organizations in India and abroad, and to international bodies such as USAID, Indonesia; NERDA, Malaysia; the Commonwealth Secretariat, London; FAO, Rome; and UNESCO, Bangkok. With over 50 years of extensive work in the field of HRD, Dr. T V Rao is known as one of the "Fathers of HRD in India". Recently Prof. Rao has propagated the concept of Human Possibility Volunteers (HPV), a very unique idea to take the HRD movement in India ahead implementation of which has far reaching consequences fulfilling the goals of our National Development. SAMARTHYA Prof. T.V.Rao Center for Human Possibility Volunteers is a humble effort on the part of School of Commerce & Management, ARKA JAIN University, Jharkhand to honor this legend's contribution in the field of HRD and to take this movement ahead which he started.
Human Possibility Volunteers (HPV)
These are the volunteers who can work in any sector, climate, region and any type of organization irrespective of size. They can be developed, hired, and invited to be associated in any development effort from any schools, universities, colleges. They work for the growth, development, and betterment of the society. They do this by associating themselves with any stake holder of an organization (employees, owners, investors, customers, suppliers, and society-at-large, impressing on the tremendous talent human beings possess and possibilities they can bring to focus to make the world a great place to live. HPV is A bare feet counselor, a walking and talking HR professional who looks at people as people and not as numbers. HPVs are responsible for the all-around development of the employees and stake holders, helps them to discover inner talent and explore new possibilities for human interventions.
MISSION
To exhibit human potential is the best instrument for any development.
VISION
Our vision is to create a better everyday life for many people and ready to serve.
HPV - THE AJU PERSPECTIVE
From the very first  day in AJU we have tried to change the thought process and perspective of our students that monetary aspect , comfort , luxury   are not the ultimate goals of life but passion , selfless service , empathy, fellow feeling  are the qualities that makes the life meaningful be it in family , work organization and society at large  . As Business School we do not confine our responsibility to serve and cater to the needs of corporate only,   for us taking initiative for the betterment of rural India is as important as working with corporate giants.
Requisites to be a part of SAMARTHYA Dr. T.V.Rao Center for Human Possibility Volunteers   (At least one is compulsory for the consideration)-
Keen to develop himself /herself as human service professional.
Communication Skill.
Self-confidence with positive thinking and respect for other human beings
Promptness
Learning Aptitude
Empathy and Extension Motivation: Concern for fellowmen and society
KEY CONCEPTS AND REQUISITE KNOWLEDGE & COMPETENCY
The members of the Centre are required to develop thorough understanding and knowledge of following concepts/ areas and practice thereof –
Basics of Human Behaviour
Organisation System & Process
Happiness Management
Empathy Quotient
Leadership
Soft  Human & Social Skills
Relationship Capital Management
Emotional Capital
Everyday Spirituality
Values & Ethics in Work  & Life
Team work
Team building
Work Culture
Organisatioal Culture
Public Policy
Public Hygiene
Environmental Protection
These may keep evolving as we progress.
PEDAGOGY
Training on the aforesaid areas is delivered through the following mode
Lectures & Discussions
Presentation
Situation Role Playing
Projects And Written Assignment
Case Analysis
Workshop / Seminars
Guest Lectures
Industry Interface
Field Visit
Case writing and Experience sharing
DEPLOYMENT OF HPVS
After acquiring the required competencies, the volunteers will be deployed for specific period in the following areas:
1. Corporate houses and industry
2. Rural Development organizations
3. Areas concerning Agricultural Development
4. Panchayati raj / Local Self-government organizations
5. MSME's
6. Health Care System
7. Environmental protection
8. Government and Public Systems
9. Education Institutions (schools, colleges, Universities)
10. Preservation of Culture & Heritage
Any organization or institution or entity interested in enhancing their capacity to get the best from their members.
BENEFITS OF VOLUNTEERING
1)    Volunteering provides wider platform to remain connected and to serve
One of the most important benefits of volunteering is the impact on the community. Volunteering allows you to connect to your community and make it a better place. Even helping out with the smallest tasks can make a real difference to the lives of people, animals, and organizations in need.
2)    Volunteering improves communication and relationship skills
While some people are naturally outgoing, others are shy and have a hard time meeting new people. Volunteering gives you the opportunity to practice and develop your social skills, since you are meeting regularly with a group of people with common interests. Once you have momentum, it's easier to branch out and make more friends and contacts.
3)    Volunteering provides a sense of purpose
Volunteering can help take your mind off your own worries, keep you mentally stimulated, and add more zest to your life.
4)    Volunteering advances your career
Volunteering gives you the opportunity to practice important skills used in the workplace, such as teamwork, communication, problem solving, project planning, task management, and organization besides understanding individual and group behavior and leadership traits  . You might feel more comfortable stretching your wings at work once you've honed these skills in a volunteer position first.
5)       Volunteering develops life skills and helps to grow as socially responsible citizen
The enormous and varied exposure volunteering provides, it makes one more mature and helps to acquire life skills in a very effective manner leading to become a socially responsible citizen.
FUNCTIONING:
The volunteers are not paid employees. However, for their sustenance the user of their services needs to take care of their subsistence and maintenance by a stipend depending on the amount and duration of time the Volunteer is expected to work for facilitating human possibilities and helping people in the organization to give their best.
FUTURE PLAN 
By 2025, we expect Human Possibility Volunteers   to take on the role of championship coaches, guiding society and businesses through expected disruptions and becoming experts in man power strategy formulating, planning and implementation.
Coordinators:
1. Smriti Mishra
Assistant Professor
School of Commerce and Management
3. Abishek Israel
Assistant Professor
School of Commerce and Management
2. Sneha Gupta
Assistant Professor
School of Commerce and Management
Contact :
Phone: +91-7411485210